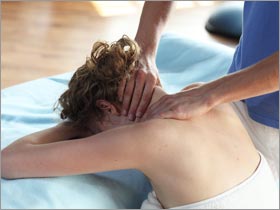 Neuromuscular therapy is a specialized form of manual therapeutic massage.  Your therapist trained in neuromuscular therapy understands the physiology of the nervous system and its effect on the muscular and skeletal systems.  Also known as trigger point myotherapy, neuromuscular therapy is the most effective form of massage therapy for lower back pain and most other types of chronic pain.
Neuromuscular therapy is a specific and scientific approach to muscular pain relief.  It aids in restoring the balance between the musculoskeletal system and the nervous system.  In a healthy individual, nerves transmit impulses to the body very slowly.  Injury, trauma, postural distortion, or stress cause nerves to speed up their transmission, inhibiting equilibrium and making the body vulnerable to pain and dysfunction.  Neuromuscular therapy, therefore, takes into account six factors that create or intensify pain:  ischemia (lack of blood flow), trigger points, nerve entrapment, postural distortions, nutrition, and well-being.
Treatment focuses on identification of tight muscles, release of trigger points, and most importantly, correction of any postural issues or compensation patterns.  Deep tissue work on specific, individual muscles will be followed with stretching to help regain proper muscle length.
Contact Massage Meridians for Wellness to discover how neuromuscular therapy can relieve your chronic pain.