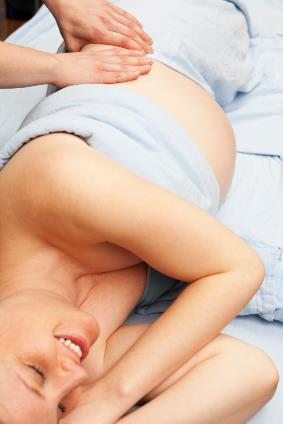 The benefits of massage therapy can improve prenatal health for many pregnant women. Along with the guidance and advice of your obstetrician or other prenatal care provider, massage therapy can be incorporated into routine prenatal care as an emotional and physical health supplement proven to improve pregnancy outcomes and health of both mother and child.
Massage therapy during pregnancy has been proven to reduce anxiety levels, decrease symptoms of depression, relieve muscle aches and joint pains, and improve labor outcomes and newborn health. Addressing different needs through varying therapeutic techniques and modalities, massage therapy can help expectant mothers in regulating hormone levels, reducing swelling, and managing joint, back, and nerve pain associated with pregnancy.
Recent studies have indicated hormone levels associated with anxiety and stress are significantly altered when massage therapy is introduced in the care of pregnant women. These hormonal benefits of prenatal massage have also produced fewer complications during birth and fewer instances of newborn complications.
Edema or swelling of the joints is a common complaint of women during pregnancy. Its cause is, most often, the reduced circulation and increased pressure on the major blood vessels by a heavy uterus. Prenatal massage therapy can aid in stimulating soft tissues to reduce collection of fluids in swollen joints.
What expectant mother has not experienced back, joint, and/or leg pain during pregnancy? Many of these pains are experienced in late pregnancy as the uterus rests on muscles of the pelvic floor and lower back spreading tension to the muscles of the upper and lower leg that causes swelling and puts pressure on nearby nerves. Massage therapy provided by a specially trained practitioner can release the tension on nearby muscles and alleviate nerve pain in all of its forms.
It is important for expectant mothers to discuss any therapeutic intervention with their primary prenatal care provider. It is equally important, once a decision to proceed with massage therapy is reached, to seek out a practitioner certified and experienced in addressing specific pregnancy and massage needs and sensitive areas of the body.
At Massage Meridians for Wellness, we are comprehensively trained and experience in providing prenatal massage therapy care. Contact us to schedule a consultation.