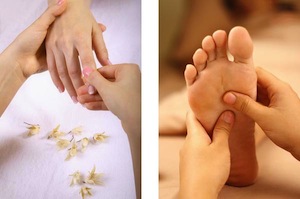 Reflexology is the application of pressure to areas on the feet and hands.  Reflexology is generally relaxing and an effective way to alleviate stress.
In a reflexology session, your therapist applies pressure on "reflex zones" found on your feet and hands.  Utilizing thumb and finger techniques, your reflexologist applies alternating pressure to reflexes identified on reflex maps of the feet and hands.
Non-invasive and complementary in nature, reflexology can boost sluggish circulation and is useful in treating stress, anxiety, and pain – including pain caused by chemotherapy treatments for cancer.  It is also and obviously a cure for tired, aching feet.
Contact us to realize the many benefits of reflexology treatments.