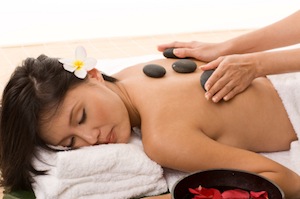 Soothing stone therapy is among the latest treatments offered by exclusive spas around the world.  And, Massage Meridians is a premier practitioner of this technique.
Soothing stone massage is both therapeutic and pampering.  It pampers as you experience the sensation of flat lava stones placed along trigger points where they continuously release their heat into your melting back muscles.  It provides therapeutic benefits to your body as it combines the benefits of heat to the muscles, pure oils to the skin, and soothing strokes to the nervous system.
Distinguishing the soothing stone therapy of Massage Meridians from other therapeutic providers is the strategic placement of both hot and cold stones over "tight" or trouble spots.  The juxtaposition of heat and cold sets up a vascular pumping action throughout the area that is profoundly relaxing as well as highly therapeutic.
Discover the joys and benefits of soothing stone therapy.  Contact Massage Meridians today to setup an appointment.