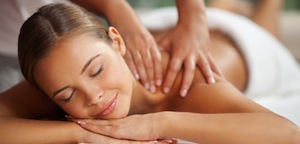 Therapeutic massage is one of the most powerful methods of treating and preventing pain as well as helping one to achieve a total state of well-being in a non-invasive, safe, and healing way.  In the hands of an experienced massage therapist, you will enjoy multiple benefits.
Massage will help you achieve a deep state of relaxation while increasing circulation and blood flow and reducing blood pressure.  It is perfect for relieving muscle tension or discomfort and improving range of motion.
Stimulating, soothing, or both depending upon the technique employed, therapeutic massage is a great way to improve your quality of life and create inner balance and harmony.  Your experienced therapist will implement techniques to help loosen tense areas and break up knots using a medium to firm pressure throughout your entire body.
At Massage Meridians for Wellness, we are committed to providing our clients with the best therapeutic massage experience in a warm, welcoming environment.  Experience the benefits of therapeutic massage for yourself.  Contact us for an appointment.